| Name | Ed Sheeran |
| --- | --- |
| Net Worth | $200 million |
| Age | 29 |
| Source of wealth | Singing, Producer, Acting and songwritting |
| Nationality | England |
Ed Sheeran is an English singer, songwriter, record producer, rapper, and actor from Suffolk, England, who has a net worth of $200 million, which places him in the World's 100 wealthiest singers and in top 10 British singers.
Ed is one of the most successful and wealthiest singers globally, with 24 million followers on Instagram, 45.3 million subscribers on YouTube, 18 million fans on Facebook, and 18.1 million followers on Twitter!
What is Ed Sheeran Net Worth in 2020
Ed Sheeran Net Worth 2020
Ed Sheeran is one of the richest musicians in the UK through his successful journey as a singer and enormous international tours. The 'Shape of You' singer has an estimated earning of $200 million.
Besides his own music, Ed also earns by song writting for other artists such as Niall Horan, the former One Direction member who revealed that Sheeran set a challenge for himself "to write a song a day before lunch" over lockdown.
In Daily Mail, Trade publication Pollstar announced that Sheeran's 260 show international tour had earned an estimated $775.5 million, breaking the 2011 record previously held by U2 for the highest-grossing tour time last year.
Sheeran had added £40 million to his pocket over the past year, positively by his massive 96-country tour and bumper album sales.
Daily Mail Pollstar confirmed that Ed Sheeran currently has the record for the highest-grossing world tour, with an estimated $775.5 million total. 8.9 million tickets were sold throughout two and a half years, and 255 performances wrapped up in Ipswich recently.
Sheeran said to Pollstar that "I just found out the Divide tour is now the highest-grossing tour of all time, this is amazing! I feel very lucky to have experienced all of the wonderful countries and crowds over the past 2 ½ years. Thank you to the fans and everyone who made it possible".
Ed Sheeran appealed to Heinz for collaboration on Instagram. He wrote, "Yo @heinz I have an idea for a tv ad if you wanna do one, if not I won't be offended, I could never be mad at you. Slide in my DMs or have your people call my people. Lots of love, your biggest fan x".
Heinz replied immediately, "hitting you up RIGHT NOW". Then Ed shared a picture. The picture was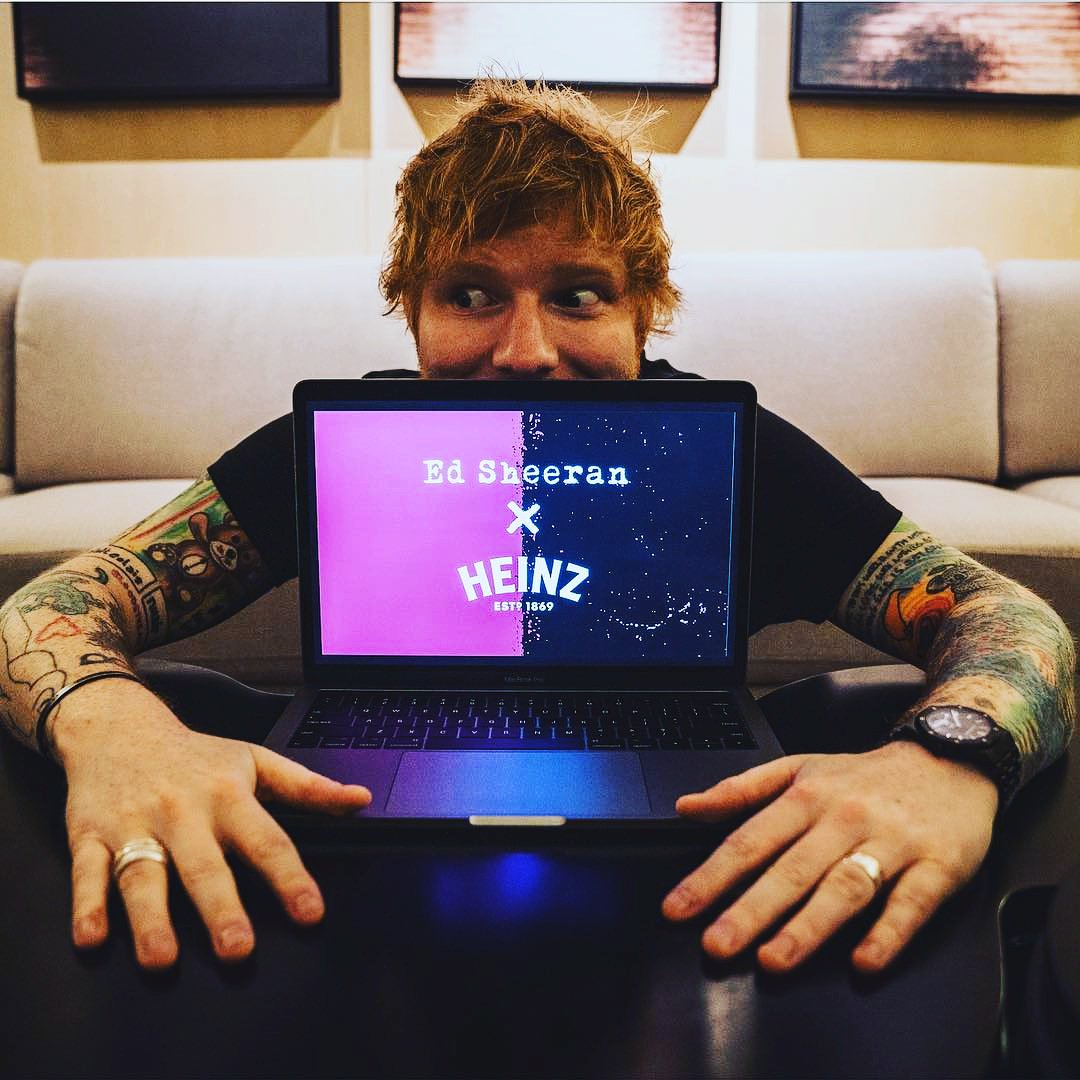 Ed Sheeran and Heinz
He confirmed, "It's happening…"
Sheeran, who reportedly asks "key members of his entourage to carry a bottle (of Heinz ketchup) wherever he goes." Their partnership was uncovered in June in the form of an advertisement, in which Sheeran described how he brought his own ketchup to a fancy restaurant and slathered it all over his dish – horrifying everyone in the process.
Sheeran's Early Life
Edward Christopher Sheeran was born on 17 February 1991 in Halifax, West Yorkshire, England. His father, John, was a curator at Cartwright Hall in Bradford, and his mother worked at Manchester City Art Gallery. He lived nearby Hebden Bridge. In 1995, they moved to Framlingham in Suffolk from Hebden Bridge. His elder brother, Matthew, worked as a composer.
At the age of four, Sheeran sang in the local Church Choir. At eleven, he started to learn how to play guitar. He began song writting when he was in his school. He was described as a "natural performer" in his school report card. Sheeran was inspired by the live concerts of Eric Clapton at the Royal Albert Hall, Paul McCartney in Birmingham, and Bob Dylan during his childhood.
By seeing Clapton, Sheeran states, "He's the reason I started playing guitar." He praised the Clapton's performance and said, "I was eleven when I saw Eric Clapton play at the Queen's Golden Jubilee concert in June 2002. I remember him walking on stage with this rainbow-colored Stratocaster and playing the first riff of "Layla." I was hooked. Two days later, I bought a black Stratocaster copy for £30 that came with an amp. All I did for the next month was try to play that Layla riff."
Ed's Musicial Career
Sheeran started music recording in 2004, and at this age, he released his first collection, "Spinning man." At the age of 15, In Cambridge, he and his fellow singer friend Passenger played the same gig. He performed in small venues in and around London for the followers.  
In 2008, he auditioned for the ITV series and opened Nizlopi in Norwich. Before going tour with Just Jack, he released another EP, "You Need Me." He also collaborated with other singers like Leddra Chapman, including CeeLo Green's "Fuck You." He also released Loose Change EP. In 2009, Sheeran started studying music in Guildford. He released the play "No.5 Collaborations Project", in 2011.
In the same year, Ed released his debut album '+.', which topped the UK Album Chart. By this hit, Ed won Brit Awards for Best British Male Solo Artist and British Breakthrough Act. 
Sheeran's second studio album was '×.' (multiply), which was released in 2014; this was the second most selling album worldwide of 2015. This album won 'Album of the Year' at the 2015 Brit Awards.
Ed Sheeran's third album was '÷.' pronounced as divide, released in September 2017. The two singles from this album, 'Shape of You' and ' Castle on the Hill', broke all the records in all the countries and were at the top two ranked. 
Sheeran is one of the world's best-selling music artists, who has sold more than 150 million records worldwide.
Sheeran's Awards and Nomination
Year
Awards
Title
Song
2012,2015
Brit Award
Best New Artist
2016
Grammy Award
Song of the Year
Thinking Out LOud
2018
Grammy Award
Best Pop Vocal Album
Divide
2018
Grammy Award
Best Pop Solo Performance
Shape of You
BIllboard Music Award
Top Artist
2015,2017
MuchMusic Video Award
Most Buzzworthy International Artist or Group
Thinking Out LOud
2014
Radio Disney Music Award
Best Crush Song
Everything Has Changed
2018
iHeartRadio Music Award
Pop Album of the Year
Divide
2015
People's Choice Award
Favorite Album

'

×

.' (multiply)
Sheeran' Filmography
| Year | Title | Role |
| --- | --- | --- |
| 2014 | Shortland Street | Himself |
| 2015 | Undateable | Himself |
| 2015 | Home and away | Teddy |
| 2015 | The Bastard Executioner | Sir Cormac |
| 2015 | Jumpers for Goalposts: Live at Wembley Stadium | Himself |
| 2016 | Bridget Jones's Baby | Himself |
| 2016 | Popstar: Never Stop Never Stopping | Himself |
| 2017 | Games of Thrones | Lannister soldier |
| 2018 | The Simpsons | Brendan (voice) |
| 2018 | Songwriter | Himself |
| 2019 | Yesterday | Himself |
| 2019 | Modern Love | Mick |
| 2019 | Star Wars: The Rise of Skywalker | Stormtrooper |
Ed's Favourite Quotes
"You want to make sure that someone is there for you when you really need them, and not just there for you for the good times." – Ed Sheeran

"Everything will be okay in the end. If it's not okay, then it's not the end." – Ed Sheeran

"If someone tells you to change yourself, tell them to go fuck themselves." – Ed Sheeran

"Be nice to everyone, always smile and appreciate things because it could all be gone tomorrow." – Ed Sheeran

"If I ever have any back-up dancers, I want the penguins from Madagascar." – Ed Sheeran
"Don't hold me down I think my braces are breaking, and it's more than I can take." – Ed Sheeran

"You are the earth that I will stand upon. You are the words that I will sing." – Ed Sheeran

"I don't ever want to be perfect, Cause I'm a singer that you Never want to see shirtless" – Ed Sheeran

"I chased the picture perfect life, I think they painted it wrong." – Ed Sheeran

"I'm gonna pick up the pieces and build a Lego house. If things go wrong we can knock it down." – Ed Sheeran

"Negativity isn't the way to go. Smile more, eat some chocolate." – Ed Sheeran